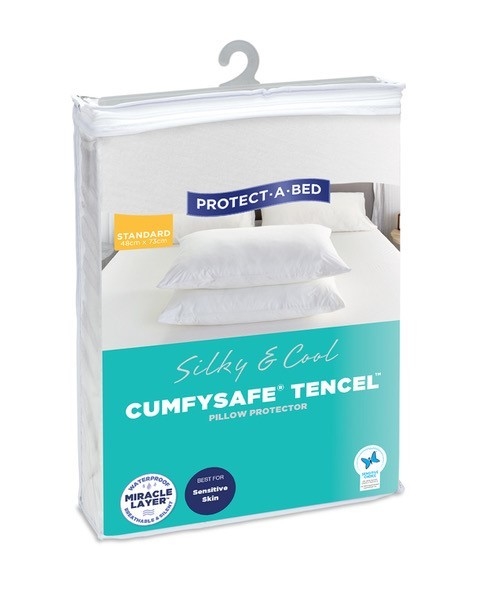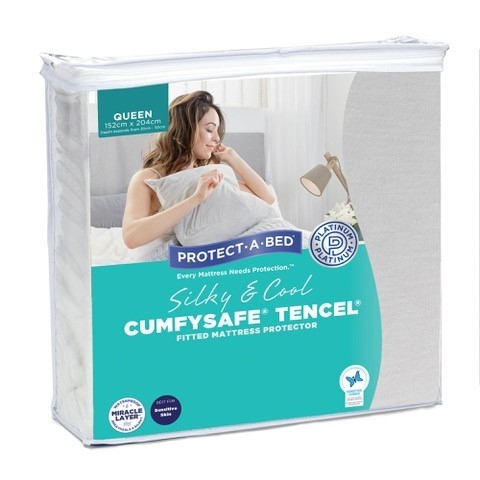 $52.00
Or 5 fortnightly payments of

$10.40

with

+1 more

Or 6 fortnightly payments of of $8.67 with
Delivery will usually be made within 14-25 business days. After placing your order, you will be contacted by one of our team to update you on your estimated time of delivery. This time will vary depending on the product ordered and the location chosen for delivery.
The CumfySafe® mattress protector is the ideal solution for people with sensitive skin. It provides all of the health benefits of our Elite mattress protector, featuring thermo-regulating properties of TENCEL®.

The CumfySafe® protector has natural anti-bacterial and hypo-allergenic properties while providing a silky and luxurious sleep surface.

TENCEL® is a 100% Natural Hygiene Eucalyptus based fibre, is naturally pure and does not contain any pesticides or agricultural chemicals. It's silky surface acts like a 'second skin' due to its thermo-regulating properties.
Features

* Natural Eucalyptus based fibre - TENCEL®
* Natural Hypoallergenic and bacteria inhibiting
* Thermo-Regulation Properties of TENCEL® maintains an even surface temperature*
* Clinically tested for protection of sensitive skin
* Protective against stains such as spills, sweat, bodily fluids, bed wetting
* Effective in preventing dust mites and bacteria from breeding inside the mattress,
* which are a significant cause of asthma, rhinitis and eczema
* Waterproof yet breathable Miracle Membrane® barrier
* High quality fitted-sheet style Expandall® skirt fits all standard and extra depth sizes
* Ultra thin material does not detract from the comfort of the mattress
* Machine wash and tumble dry
* Tested for harmful substances according to Oeko-Tex Standard 100
* Suitable for use with electric blankets